Got 2 minutes? Shane from Under2 takes over our Spotify 21/06/19
21 June 2019
We discuss lions in offices, the future of tech and Rick Astley.
Hi Shane! Thanks for heading up the Spotify Takeover today. I've heard rumours there's a theme to your playlist?

That's right. Under 2 minute songs. I'm one of the Co-Founders at Under2 so obviously, I've shoehorned our company name into the playlist somewhere. If you've got a spare two minutes (there or there abouts) you can follow here.
You should consider dropping your Web Building career for Marketing...How hard has it been to make?
Not the easiest really. It's really easy to find songs under 2 minutes on Spotify. It's really hard to find any "good" ones though. I decided to tweak this to make 2(ish) minutes just to help me get it to a decent sized playlist. There is a very wide range of music in this playlist.
By way of a fluke, I've managed 46 songs for 90 mins. That averages to just under 2 mins per song..
What is it that you do at Colony?
Everything to do with building fast loading websites. I've been a web developer for the last 15+ years now.
Our companies entire focus is on building fast loading websites so on top of the development work I'm constantly tweaking and measuring to see if we can shave milliseconds off the sites we work on.
We also run training on site speed optimisation a few times a year and I deliver that along with Chris our other Co-Founder who is down in our London office.
Can you point us in the direction of some cool new tech products?
Payment rings are pretty cool, Chris has one and it still confuses many places in Manchester when comes ups.
Recently Google launched Augmented Reality in Search, that was pretty cool. Apple launched a $999 monitor stand, that was not cool. Here's Google's AR working in the Colony Piccadilly office.
*I'd just like to point out that whilst Colony adopts a dog friendly policy, we do not allow real life lions in the space - except on Fridays
On the same theme of Spotify 'takeover', do you think computers will take over the world one day?
They already have, I think many people just don't know it yet. Everyone is staring at a screen for most of the day now. If it's not at your desk, it's looking down at your phone, no one is looking up any more. The rise of social media and addiction to those platforms was the start of the takeover. There is probably a Black Mirror script in here somewhere..
Favourite musical memory?
Definitely not a memory but something music themed I always remember to do. Some sites we build have a requirement for video, either a video player or video backgrounds. If the client hasn't provided the video yet, there is a pretty high chance that the placeholder video is going to be Rick Astley. I'm still keeping the RickRoll alive in 2019!
Non-work related answer. I used to live with Pete around 10 years ago (Colony Member and Owner of Typeface). We used to be in a basement band called One Way Death Bus with one of our other housemates. We were a mix of Pendulum, Green Day and Kate Nash. Our neighbours loved us.
If you had to describe your professional life in a lyric, what would that be?
By far the hardest question. Take a look at the lyrics for Bachman Turner Overdrive, "Taking Care of Business". I guess most of those lyrics covers the last 10 years from being freelance all the way to where I am now...

And if your train's on time
You can get to work by nine
And start your slaving job to get your pay
If you ever get annoyed
Look at me I'm self-employed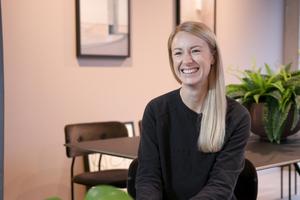 Some of our members are Manchester born and bred and some have made the city their adopted home. One…
See more posts
Send a Message
Get In touch
Colony
24 Hood Street
Ancoats Urban Village
Manchester, M4 6WX
info@colonyco.work
0161 974 3210