Automation, Automation, Automation
14 August 2019
Ethar from Axelisys sheds light on the (business) friendly side of robots!
Coding, Computing and Shotputting are just some of the strings to Ethar Alali's bow. He also knows his way around a front facing camera and can talk about computing in a refreshingly accessible manner so we couldn't not get a blog out of him!
Tell us a little bit about Axelisys?
At our core, Axelisys is an innovation firm. We're probably the most innovative federation nobody has heard of yet our team have often underpinned some of the world's most advanced, innovative tech or analytics processes. The way we work allows us to expand and contract the business and its clusters into spaces that larger firms can't, but equally, bring enterprise level digital tech to much smaller firms.
In everything we do, we work across three pillars.
Production – Cloud computing, AI, Data Science, Websites, E-Commerce, Automations, IoT, Visualisations
Prototyping – Essentially, R&D. From which a lot of production happens
Consultancy – Typically helping big companies become leaner and more agile, but also mentoring individuals and smaller companies in coding and some of the tech we use
Although we blend corporate and not so corporate, folk who work around us know we don't take ourselves too seriously. A lot of our members also have social good or even activist stances. Standing for collective good is something we are passionate about and have even brought some of our economic models into this space to help companies and communities join things up a bit better. Our team have helped with everything from setting up and incubating a community library all the way to social accounting for entire countries.
Why have you focused on automation and what benefits does it have to a Startup?
Startups need to make the most of every penny, second and resource they have. When you consider that repetitive tasks were what robots and computers were made for, it makes sense to delegate that side of things to the machines. Early stage Startups also need to focus on delivering product to market and ideally, monetising that, to demonstrate investment potential. Anything that takes away from those tasks, weather payroll, accounts or even scheduling your marketing, is a threat to that line whilst also being potentially damaging if done wrong.
For years, automation has been a really big part of what we do. Whether that is automated testing and deployments, monitoring, self-healing systems, capturing leads, technical support, paying workers & freelancers, creating documentation or anything else. Each of those does one specific thing, but in combination it saves us a lot of time (Sometimes up to two salaried staff members). That helps pass those savings on to customers and crucially, opens up enterprise scale capability to us and our SME customers who would otherwise find costs prohibitive. If there is one thing I'd recommend small business do, it's automate as much as possible! If you know what you're doing, it doesn't cost the earth either. You can do a heck of a lot for free.
Can you tell us a little about project IronClad and why you're doing it?
IronClad is our contactless card shield. It stops people having their contactless cards skimmed. While it's not possible for a fraudster to take a payment instantly, they have enough information to make what the industry calls "customer not present" transactions (where no pin or CV2 is required). Crucially though, the cards can be cut to size. Our next version will come in larger sheets. Letting customers cut them to fit their own cases. Clutches, wallets, purses, phone cases, pockets, bags and much more. We deliberately went out to make IronClad cost-effective. It's meant as a high-quality, low price point device that anyone can buy and fit to their existing wallets.
What's the most exciting thing happening in the Manchester Startup scene in your view?
There are a couple of really good projects out there. Without being too selfish, I asked a couple of our Manchester based folk what they thought and we've had a few people cite AfterPay's takeover of ClearPay in the FinTech space or the continued growth of smart advertising display firm Bidooh. Despite ClearPay being a former client of ours, for me, I'd say the thing that makes Manchester, Manchester, is the ubiquity of the city's appetite for social good. I've not seen that in a lot of other places and certainly not to the scale it exists here per capita. I'd also like to add companies focusing on tackling some of society's more problematic and under-resourced areas. Particularly mental health, digital skills and poverty.
Manchester is a really vibrant city. I'm old enough to remember the days when not a lot happened here. Then over a period of only 3 years, the city increased its GVA by 30%. With new tech clusters and Startups popping up all over the place and crucially, attracting tech talent back from London and the South East.
Favourite place to go for lunch?
That's by far the hardest question yet Joe! For those that have known me for a while and crucially, have seen me eat, they'll argue I'm not at all fussy! As a result, I'm a little stumped because there's simply too much choice and it's not beyond me to choose everything. So, the best I can do is give you my top three:
1. Day-to-day, I have to give Fundamentum Bakery a shout-out. They do excellent pizza's! They're also not 30 yards away. It's very satisfying gastronomy and the guilt of not walking off the calories.
2. Markets – Because Markets! I'm really into street-food. So always lurk at markets, including Manchester Arndale.
3. Bundobust – Best vegetarian restaurant ever! On the corner of Piccadilly bus station. If I have a client that's obviously up for something new, I have lunch meetings in there.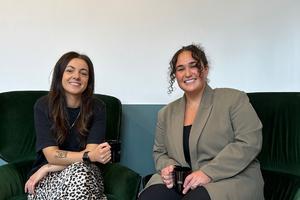 Our member spotlight series returns with an introduction to The Lit Agency: a graphic design and branding…
See more posts