Colony Fabrica Launches with a Day of Coworking & Events
5 October 2023
On Thursday 28th of September we opened the doors to Colony Fabrica for the first time! Our brand new flexible workspace on the border of New Islington & Piccadilly East played host to a group of eager workers keen to try out the venue. The day was also attended by Manchester Young Professionals and in the evening, Fuse ran a creative presentation event!
Introducing Colony Fabrica:

We're still buzzing with excitement from the Launch Day Events of Colony Fabrica, and we have even more fantastic highlights to share with you. Our heartfelt thanks go out to everyone who joined us for this incredible day of creativity, collaboration, and connection.
Before we dive into all the exciting details, let's take a quick look back. Colony made its entrance into the coworking scene back in 2017 when we opened our first space, Jactin House, right in the bustling centre of Ancoats. Since then, we've been on a mission to create innovative, community-focused workspaces that cater to everyone, from freelancers and startups to established businesses.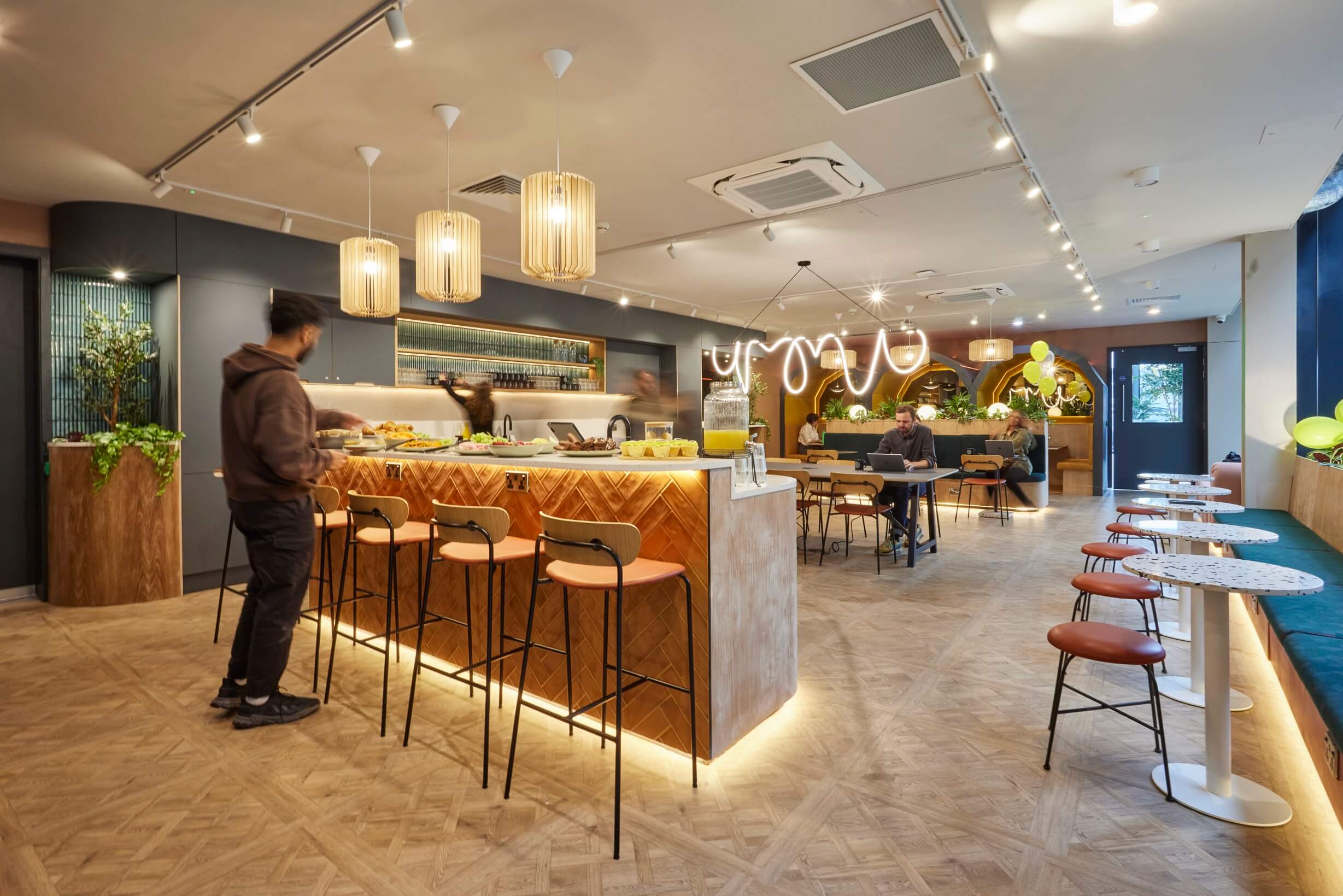 Colony Fabrica, opened its doors this October, and is our latest workspace in the heart of Manchester's redeveloping New Islington area. This space is more than just an office; it's a dynamic hub designed to meet the ever-evolving needs of work and social cultures in a post-pandemic world.
Premium Workspace:
We're talking top-notch facilities and a range of workspace options to suit your needs, including nine private suites – with the largest one boasting a whopping 100 workstations. Want to find out more? Contact our Head of Sales, Georgia, via the contact form below.
Flexibility at Its Best:
We understand that everyone's workstyle is unique. That's why we're offering flexible desk membership options that cater to your schedule and preferences. Perfect for start-ups and remote workers!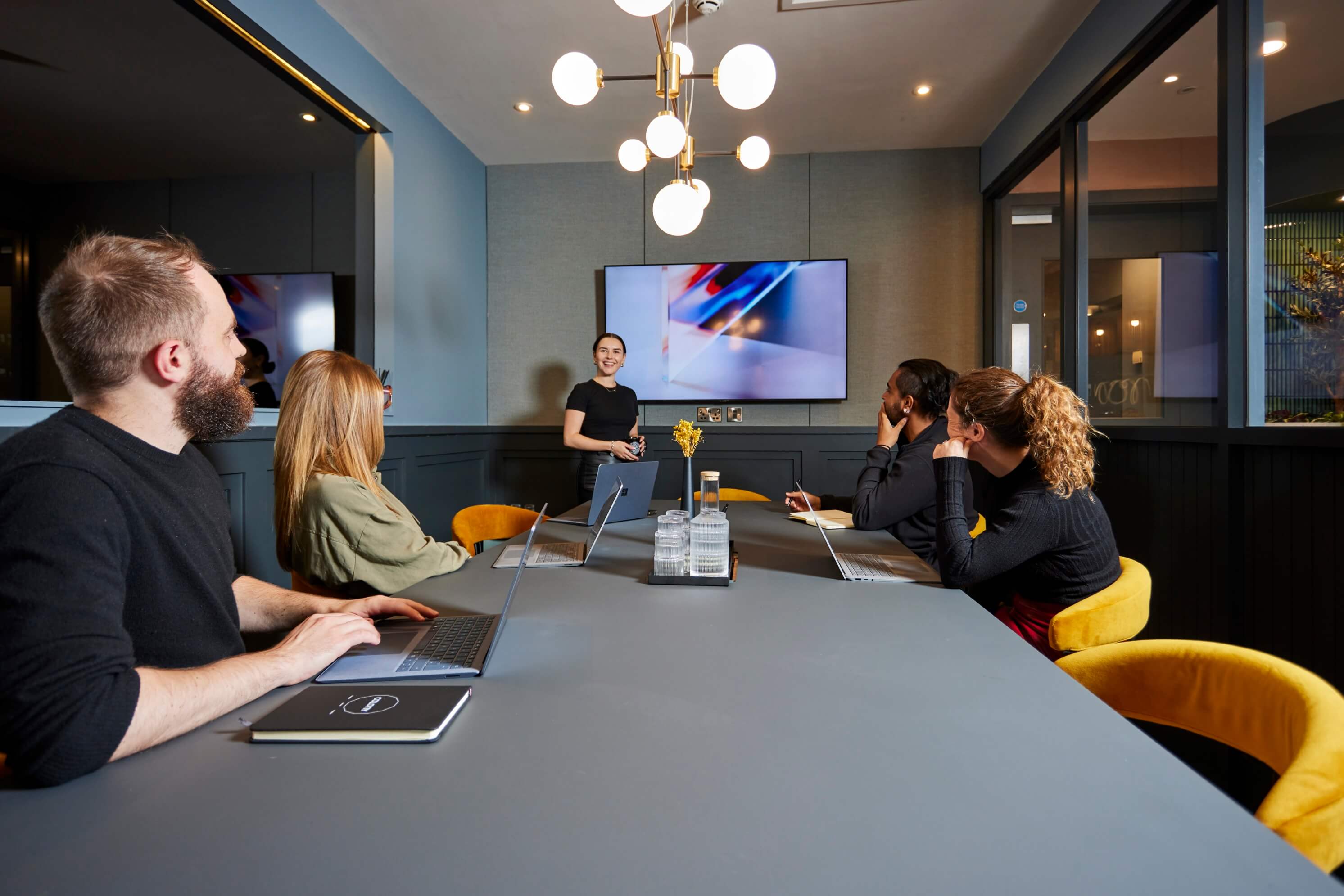 Meeting Spaces Galore:
Need to host a meeting? No problem! Fabrica comes equipped with four fully-equipped meeting spaces, so you can impress clients and collaborate with colleagues in style. We have even fitted our a dedicated presentation & event space!
Fabrica Launch Day:
We were thrilled to have had some fantastic coworking members, remote workers, agents & event partners join us on this special occasion, making the day even more vibrant and dynamic. Among them were the Manchester Young Professionals—a group that represents the city's brightest talent and future leaders. It was a pleasure to host such a dynamic and forward-thinking group in our new space. The morning began with an open invitation to explore Colony Fabrica. Members and newcomers alike enjoyed a day of flexible, productive work in our premium coworking spaces. Whether you needed a private nook for a focused project or an inspiring environment for collaborative brainstorming, Fabrica offered it all.
Mid-morning brought us together for a Networking Brunch, where connections were forged, ideas sparked, and new friendships formed. It was a delightful opportunity to break bread (and avocado toast) with fellow professionals, and the buzz of conversations filled the room.

The afternoon saw a transition to our social drinks session—a wonderful way to relax, celebrate, and toast to the promising journey ahead.
Evening: Creative Inspiration with Fuse:
As the sun set on our Launch Day, we were honoured to host Fuse in our dedicated event space. Fuse, a platform for underrepresented creatives, known for its innovative presentations, delivered an unforgettable creative presentation event featuring the musician Samrai and designer Taxi Cab Industries. It was a spectacular showcase of creativity and innovation in the heart of Colony Fabrica.
What's on the Horizon?
With the successful launch of Colony Fabrica, we can't wait to witness the incredible work, collaborations, and innovations that will come to life within these walls. Keep an eye on our website and social media channels for updates on upcoming workshops, networking events, and more. You can find further launch events listed here.
We're here to support your work, growth, and success every step of the way. If you have any questions, suggestions, or simply want to connect, please reach out to us. Our Head of Marketing, Jamie Halliday, is always here to assist you at jamie@colonyco.work or by phone at 0161 974 3232.
Thank you once again for being a part of the Colony Cowork family. We can't wait to see you at Colony Fabrica soon!
Send a Message
Get In touch
Colony are featured in this years Hybrid Work Report by Raconteur and distributed in The Times Newspaper.…
See more posts