In Conversation with...Rob Illidge
29 October 2019
As part of our 'In Conversation' series we sat down with Rob Illidge, CEO of Social Republic, a global social media agency who call Colony Piccadilly their home, for a chat about social media, entrepreneurship and Facebook cat videos!
Tell us a bit about yourself?
Born and raised in Preston, Lancashire, my mother was a breeder of the finest long-haired miniature dachshunds, with an annual trip to Crufts thrown in for good measure. I once met Pat Butcher (Pam St Clement), which was a highlight.
My dad on the other hand, worked for what was then known as the Whitbread brewery company, before owning a parachute centre where he taught people to jump out of a perfectly good plane from 14,000ft.
After graduating with a degree in International Business, I made the decision to leave and move to Manchester, simply due job opportunities and the lure of being closer to my beloved football team, and there's only one club of course, the red kind.
I felt like I needed to leave the nest and get lost in, what I thought then, was a never-ending city.
Having worked for brands for over eight years I felt like I had become an adopted Mancunian, and the perfect place to start Social Republic, and I've never looked back.
How did Social Republic come to be?
The journey started in 2006 when I studied International Business at university in Connecticut, USA, having craved the American dream. What I discovered, alongside gregarious food portions; a love of the English accent and unforgiving alcohol laws, was the growing popularity of social networks.
At this time, access to Facebook was limited to those with an American university email address, which allowed me to become one of the first Britons to access the platform. These were the days long before WhatsApp and Instagram, when Facebook was used more as an address book for campus acquaintances you had befriended at the party the night before…no cat videos shared by mum, or fake news articles to anger dad!
Following my gradation, I took the leap to move to Manchester and secured a role at a national law firm working on social media campaigns. I developed several award-winning campaigns and went on to work in the tech and fin-tech industries.
During this time, I noticed that there was a lack of transparency offered by agencies – before and during campaigns – which frustrated me as I wanted those working on our accounts to be experts within our industry and for budgets to be utilised effectively.
Thinking back, both my parents were 'entrepreneurs' which may have led me to always wanting to start my own business, I wanted to make a difference and to create a "new way", an alternative to traditional agencies.
In June 2015, I launched Social Republic, a social-first agency supported by over 400 global freelancers, allowing us to build teams around the client's needs, an offering like no other agency.
What do you consider to be your 'big break'?
Having convinced my dad to buy me a PC back in the 1990's, I tried everything I could not to break it but often it would have to be fixed. This was a time when the internet as we know it didn't exist, my friends were out playing football or climbing trees, whereas I was trying to push this giant piece of tech to its limits.
Even in Primary School I showed teachers how to install educational programs on computers with a handful of floppy disks (for those who are younger than 18, you may need to Google this).
When I reached high school every boy either wanted to be a footballer or play video games, like many children today want to be social media influencers. I knew I would work with technology.
Fast-forward to the day I left my last salaried position. Freedom I thought, on the Friday, with drinks to celebrate.
Come Monday, I had an agency with no clients and one month to pay the rent. I had £30 in my bank account. You may see anecdotes of entrepreneurs starting businesses with no money, and you have every right to be sceptical as some are fabricated for engagement, however this is genuine.
I didn't have money for someone to build me a website, so I paid for a low-cost template and did it myself. There was no-one to help me with strategy, so I made my living room into my office, and covered the walls with my plans for the year ahead.
With nothing more than a plan and a list of names, I used the cold calling scene from Will Smith's Pursuit of Happyness, to get started. I didn't have time to think about the consequences of leaving my full-time role.
The list I had consisted of people I barely knew at the top, and those I loved at the bottom. I spent the entire day calling those people trying to secure work for an agency that didn't exist. When the people you are calling have known you for years you have to throw pride and ego out of the window. I'm not sure if the first person to agree pitied me or genuinely needed help with their social campaigns, but I caught a break.
What's Social Republic's biggest achievement to date?
Rob May of the Telegraph reported that 660,000 new companies are registered in the UK every year, which is 70 new businesses being formed every hour. The same as every man, woman and child in Glasgow starting a new business every year. Unfortunately, 60% of businesses close within the first three years, with 20% closing after just twelve months.
In June 2020 we celebrate our 5th birthday, which is testament to the team's hard work, dedication and loyalty. I'm proud of our growth, the success we have generated for clients and the individuals who have joined me on this journey.
Why does coworking work for you?
As alumni of the NatWest Entrepreneur Accelerator, I feel that coworking is in our DNA. It's a fantastic concept to help growing businesses work alongside other entrepreneurs.
Whether you're just starting out or have a team of 20, co-working allows businesses to assist and support each other.
Having worked in-house for brands and for agencies, there's often a competitive culture which can limit team productivity. With a co-working space, you're free to engage with others that don't represent any form of competition.
The social aspects of working in a shared space are a welcome addition allowing us to concentrate when we need to but knowing that the Colony team has worked hard behind the scenes to organise brunches, yoga sessions, seasonal parties and drinks evenings.
Have you made any business connections – or bff's – from working in Colony?
Absolutely. We're a friendly bunch and introduced ourselves to other teams on our first day, giving away our famous Social Republic reusable coffee cups (more cups are available please get in touch).
Our shout-outs have to be Carl Garcia - Absolute Post, Ben Horrigan - Studio 91, James Fox - Studio Zenko, Stuart Bloodworth - Nice&Co and Rebecca Smith - Employd.
What does 2020 (and beyond) look like for Social Republic
It's going to be an exciting year.
We are committed to employing new talented individuals to further improve our in-house team, aim to increase our freelance talent pool to over 1000, and look to leverage our position on the Governments £1.4bn digital framework.
To help entrepreneurs and small businesses we're due to launch our own content creation platform, Hubbl, which is the world's first AI-powered platform of its kind. With 86% of business owners struggling to know what to post on social networks, and 70% of brands not having the budget to work with an agency, we believe Hubbl is the solution.
Rob is hosting a Q&A session at Colony Piccadilly Social Brunch on Thursday 31st October. Questions welcome, Halloween fancy dress optional.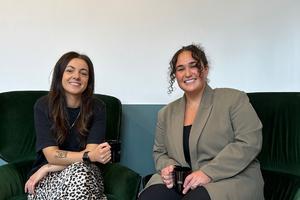 Our member spotlight series returns with an introduction to The Lit Agency: a graphic design and branding…
See more posts