Top 5 Places To Work In Manchester
18 July 2022
We all know Manchester is an amazing city to live in but where are the best areas to work in the city? We narrowed it down to the five top areas for working so you can find a workspace to suit you.
Top 5 Sensational Spaces to Work in Manchester
We know Manchester is the best city in the UK, whether it's living here or working, we're top of the pile and everybody else can argue over second place. But which parts of our buzzing city are the best to work in? We've had a think, mulled it over, re-thought, double-checked and cross-referenced before arriving at the following conclusion:
Ancoats
Piccadilly
Northern Quarter
Spinningfields
Gay Village
Feel free to dispute it and formulate your own opinions on where you would rather work and which neighbourhoods are the best, but here's our reasonings as to why we think what we do…
Ancoats
There's no question that Ancoats is the place to be. Whether it's for the sleek offices that so perfectly encapsulate the new and contemporary feel of the area, the elegantly polished flats or the plethora of restaurants and bars in and around Cutting Room Square, there's more than plenty to fill your boots, no matter how big your feet are. In fact, we would go as far as saying you can't go wrong in Ancoats – somewhere in which we are proud to be a part of. Ancoats is home to some of the best office and co-working space in the country, never mind the city! We have the bold and definitive One Silk Street, the hub of innovation that is Jactin House, as well as the creative cogs of The Astley. Surrounding our amazing offices are unbelievable lunch spots like Café Cotton, Rad's Caribbean takeaway and The Hip-Hop Chip Shop, as well as places for evening meals too! Whether you call it dinner or tea, there's a fantastic range of choice from the undisputed pasta kings over at Sugo Pasta Kitchen to the dons of all things Pizza at Rudy's, not to mention the Michelin-star Mana, the lively Blossom St Social, Elnecot, Lazy Tony's Lasagneria, the Edinburgh Castle pub and countless more social eateries and watering holes along the picturesque Ancoats Marina. It's hard to argue against, for us Ancoats reigns supreme as the top space for co-working in Manchester… maybe even in the UK! Try and change our minds, we'll wait.
---
Piccadilly

What a place! Busy and bustling with human traffic, toing and froing from here, there and everywhere. Piccadilly has loads to offer, not just in terms of amazing co-working and office space, but there's also great places to eat, drink, reset and recharge all a stone's throw from one of the most connected train stations in the World. Our site at Piccadilly is designed with the location and co-working in mind, integrating a large social bar to facilitate networking for both professional and personal connections, along with private meeting rooms and dedicated focus zones for when you want a break from the buzz. Surrounding Colony Piccadilly are countless food hotspots, including all those that find their home at Piccadilly Station; Archies, Leon, Rice, Moose Coffee, Subway, Bravissimi, Pret A Manger, Starbucks and Costa to mention but a few. Given the areas synonymity with the train station, there are also a number of stunning overnight stays like the Malmaison, DoubleTree by Hilton and Abode Manchester all nearby, some of which have excellent spa and swimming facilities, so when you've finished co-working for the day you can kick back and relax. Piccadilly was made for the metropolitan man, woman and everybody in between. Embrace it.
---
Northern Quarter
The quirkiest and most colourful quarter of Manchester, the Northern Quarter is absolutely and unapologetically itself and we love it for that. Dramatic yet unassuming, the contents of the space are a testament to the city, many of which form part of Manchester's cultural persona such as the weird and wonderful Affleck's Palace and its intricately decorated exterior, tiled with mosaics of Mancunian icons. There is also a possibility that you might recognise some spots around NQ from the big screen, as it isn't uncommon to find camera crews rolling around Tib Street, Dale Street and Tariff Street with the likes of Peaky Blinders, Captain America and Sherlock Holmes all having scenes shot in and around the area. Aside from the possible A-list actor you may or may not stumble across, Northern Quarter has a wealth of well-renowned restaurants, bars and clubs spread out across Stevenson Square, as well as up and down the many streets leading towards it including Flok, Soup Kitchen, Nell's Pizza, Bay Horse Tavern, Yard and Coop, Smithfield Social and plenty more! Not to mention the bohemian office and co-working spaces that are intertwined with the many pubs and eateries, NQ truly is a haven for the avant-garde.
Credit BBC
---
Spinningfields
Manchester's take on Canary Wharf, in a business up top and party down below manner. Spinningfields certainly oozes modernity with it's sleek Bauhaus-esque architecture, characterised by lots of straight lines and edges and an emphasis on less being more. It's no wonder that Spinningfields is a thriving hub for co-working business in the city, primarily home to finance and banking, but also to law firms, tech companies and, of course, a serious number of eating and drinking establishments. From the legendary Oast House to the infamous Ivy, Australasia and 20 Stories, Spinningfields is the height of sophistication. Whether it's an endless supply of meat from Fazenda or a boujie shopping trip to Flannels, whatever takes your fancy, you can find it all in Spinningfields. Even if you're not looking to break the bank, there's plenty of reasonably priced places to spend your coin like the Slug & Lettuce, Nando's, Banyan and the Alchemist. Work, co-work or play, they don't come in much better locations than Spinningfields.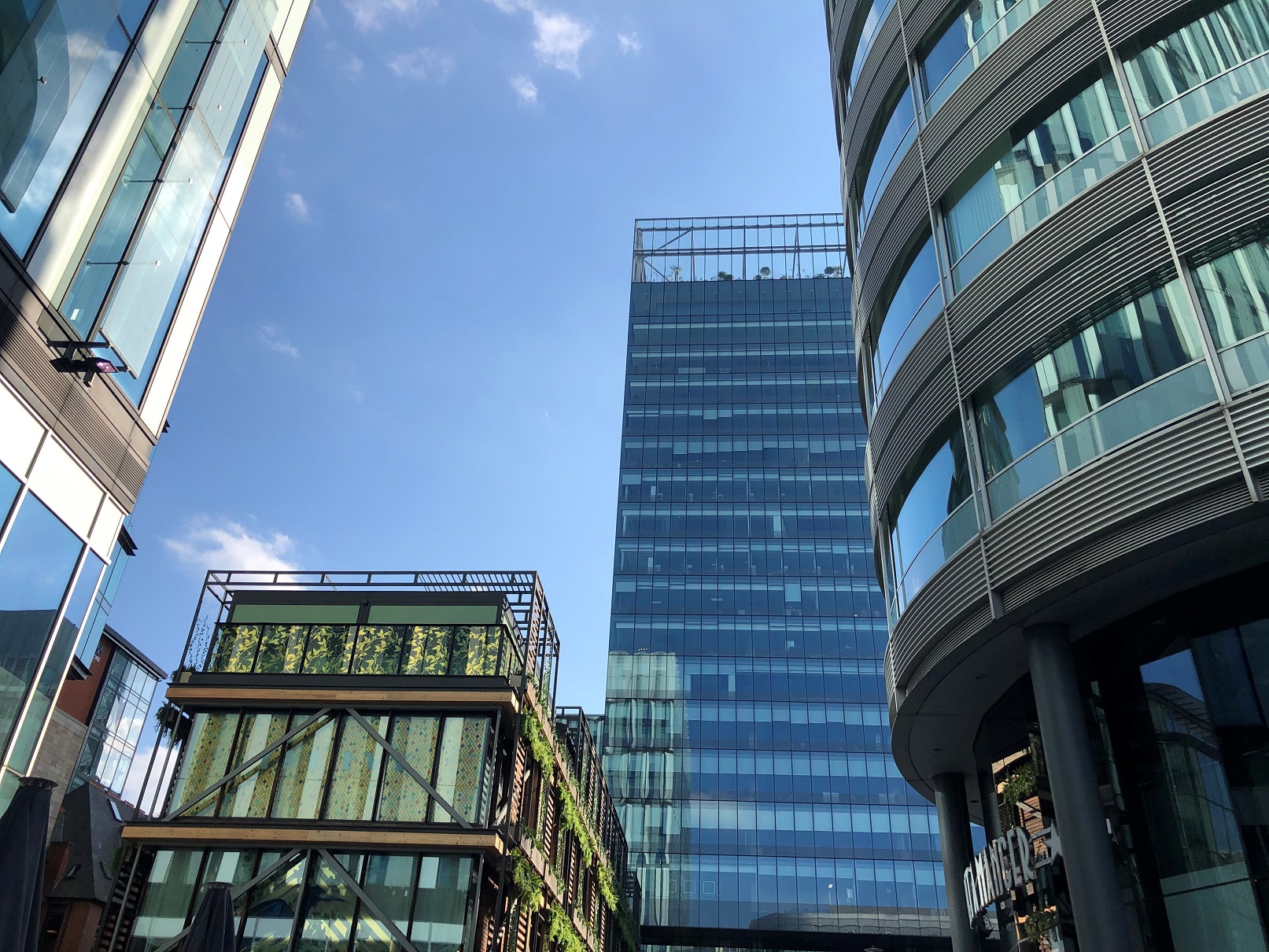 ---
Gay Village
We could be at risk of dropping a clanger by saying Northern Quarter is the most colourful corner of Manchester, especially when we have the Gay Village! Home of Manchester's Pride Festival, located in the quadrant between Portland Street, Piccadilly and the University of Manchester's Sackville Street Campus – where, incidentally, you can find a statue of legendary Mancunian, WWII codebreaker and mathematician, Alan Turing - the Gay Village is a centre for all things loud and proud! The main road in which makes up the village, Canal Street, is typically adorned from tip to toe in rainbow flags all year round, come rain or shine. There are amazing co-working and office spaces in and around the village both new and old, as well as great places to live, eat-in, take-out or for a quick drink or two. Being a short walk from the city centre and Oxford Road, you can rest easy knowing that if you can't find what you're looking for in the Gay Village there's no need to stress as there are ample more options only a quick walk round the corner! We know it's a firm favourite of many people that live, work and co-work in the city, could it be yours?
Credit Manchester Pride
---
It's always difficult to choose a select few places to shout out in the city because there's an abundance of amazing areas, and all within their own right. We tried our best to be fair and not-bias (at all) and truthfully, we think we've got it nailed on. There are of course other places worth a mention so here's to all the great working and co-working spots in Didsbury (East and West), Salford Quays, Chorlton, Sale and Altrincham to name but a few. If we're totally honest, Manchester is undoubtedly the best place to be regardless whether you're in the Northern Quarter or Spinningfields, Deansgate or Castlefield, just count your lucky stars you're in the best city in the World – that's right, we said it...
Fancy working from one of our venues in Ancoats, Northern Quarter or Piccadilly? Drop us an email and we'll get you in for a free trial day - info@colonyco.work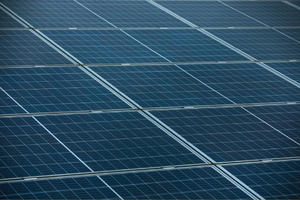 Colony & Northern Group are delighted to announce we have installed solar panels on the roof of our Ancoats…
See more posts